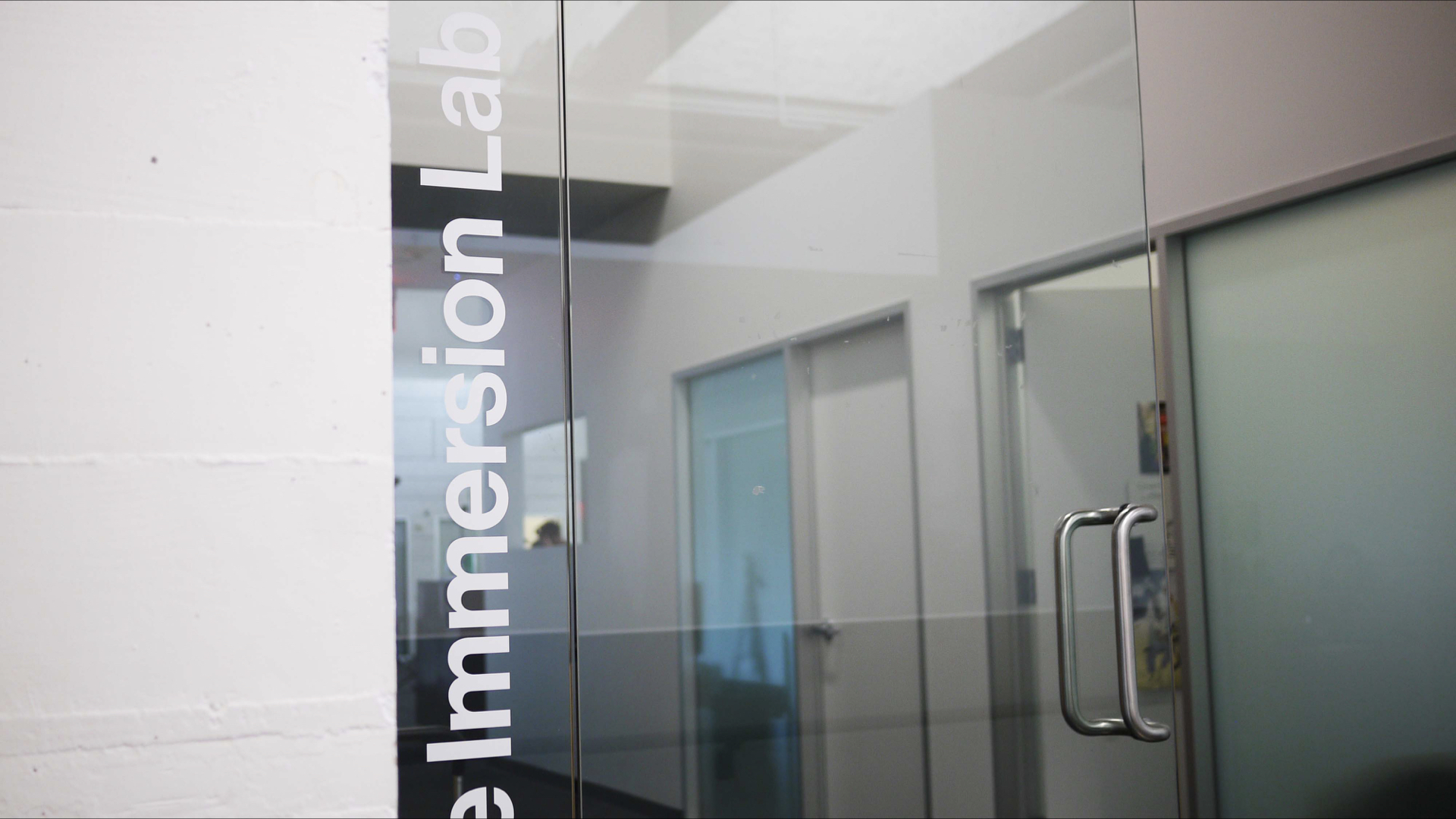 THE IMMERSION LAB (2016 -- )

Director of a transdiscplinary lab dedicated to prototyping with emerging spatial technologies


The Immersion Lab at ArtCenter College of Design is a shared space that gives students and faculty greater access to various XR technologies (AR, VR, and MR), methodologies, mentors, community, and tools. As an interdisciplinary resource, we use exploratory prototyping and experiential learning to quickly familiarize students with the medium and start to explore with its creative potential. The lab hosts various undergraduate and graduate courses. This fall term the lab is hosting four studios as well as it's first sponsored studio with Google Daydream. The lab has 8 stations with VR ready PCs, 8 HTC Vive playspaces, a Motion Capture space with 2 mobile mocap suits, as well as an array of additional equipment from the Oculus Rift to the Hololens.

MIXED REALITY FURNITURE (2019)
A Graduate Media Design Practices Course
Lead Faculty, Co-Taught with Benjamin Borden

BRB (2018)

2018 / symposium; curation
In collaboration with Ben Hooker
Wind Tunnel Gallery, ArtCenter College of Design, Pasadena CA / November 5, 4-7pm
A
live-stream symposium
of #streaminglifestyles #interfaceaesthetics #virtualurbanism #esportsbodies—nov 5, 4–7pm—wind tunnel graduate center for critical practice gallery—950 s raymond ave, pasadena, ca 91105—SPEAKERS—MATT ADAMS graphic designer and creator of ar computer fashion—JESS FRUCHT associate creative lead at riot games—NATHAN HERTZ director, performer, creator of streaming persona "man of mode"—RACHEL KINNARD costume designer for "the call of warr", a live and interactive experience from wham city, streaming on adult swim—SAM ROLFES multi-format-mixed-media visual artist, unconventional graphic designer, experimental electronic musician, mocap performer—ORGANIZERS—BEN HOOKER & JENNY RODENHOUSE faculty at art center college of design—WOBBLY REALITIES a working group at
mediadesignpractices.net
Live Stream Channel:
twitch.tv/mediadesignpractices
WOBBLEY REALITIES (2018-2019)
Research Group
In Collaboration with Ben Hooker
A research/work group in the Graduate Media Design Practices at ArtCenter College of Design. #StreamingLifestyles #InterfaceAesthetics #VirtualUrbanism #eSportsBodies.
Live Reader:
https://wobblyrealities.tumblr.com
TEACHING


2014 - Current
Assistant Professor, ArtCenter College of Design
Interaction Design Department and Grad Media Design Practices



Life Styles of the Live and Streaming
ArtCenter College of Design
Media Design Practices
Faculty
With Tim Durfee

Tools for Future Creators
ArtCenter College of Design
Interaction Design
Google Daydream Sponsored Studio
Faculty
With Leonard Wozniak

Body Tracking
ArtCenter College of Design
Interaction Design
Mobile Mocap Prototyping
Faculty
With Elise Co

Useless AI
ArtCenter College of Design
Media Design Practices
AI Studio
Faculty
With Phil van Allen

The Nervous System
ArtCenter College of Design
TestLab Berlin
Faculty
With Carolina Trigo and Michael Sans
Fall Term, September - November

Object/Asset
VR Transdisciplinary Studio
With Filip Kostic
ArtCenter College of Design
Summer 2017

The Trip
VR/MR + Transportation Systems Workshop
Graduate Transportation Department
With Theo Triantafyllidis
ArtCenter College of Design
4 weeks in Spring 2017

Product Design for Interaction Designers
Design & Technology Department
Santa Monica College
Spring 2017

Everyday Immersions MDP
VR and AR Graduate Studio
Media Design Practices
With Ben Hooker and Theo Triantafyllidis
ArtCenter College of Design
Spring 2017

Everyday Immersions TDS
VR and AR Transmedia Studio
Interaction Design
With Filip Kostic
ArtCenter College of Design
Spring 2017

Design for Interactive Narrative
Interaction Design Department
Art Center College of Design
Pasadena, CA
Fall 2016

Senior Studio: A.I. and Agents
Interaction Design Department
Art Center College of Design
Pasadena, CA
Fall 2016

Interactive Storytelling
Interaction Design Department
Design and Technology
Santa Monica College
Santa Monica, CA
Fall 2016

Interaction Design 2: Macro to Micro
Interaction Design Department
Art Center College of Design
Pasadena, CA
Spring 2016

User Experience Design 2
Design and Technology Department
Santa Monica College
Santa Monica, CA
Spring 2016

Play Studio
Interaction Design Senior Studio
Art Center College of Design
Pasadena, CA
Fall 2015