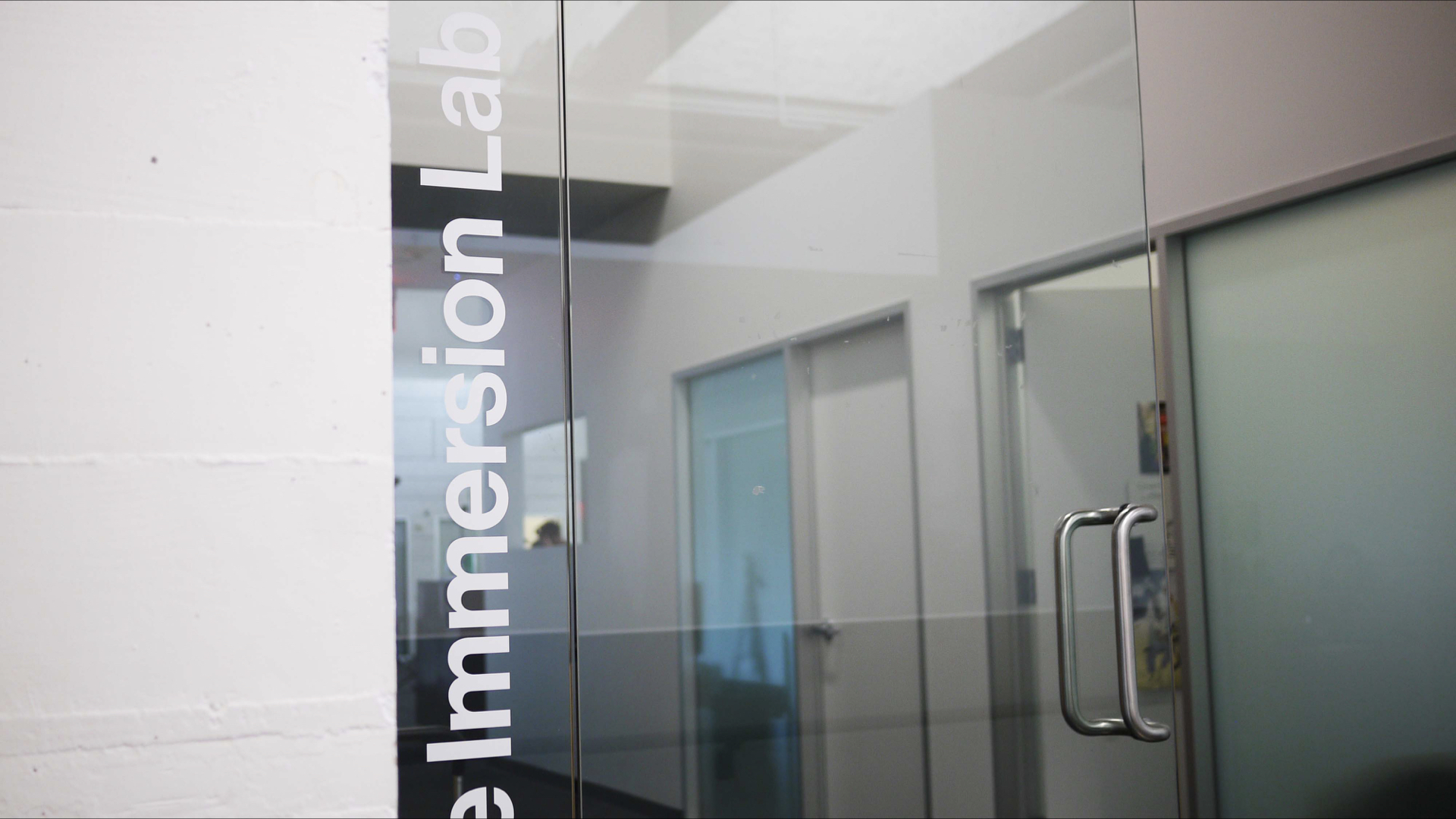 THE IMMERSION LAB (2016 -- )
Director of ArtCenter's Immersional Lab dedicated to technology-led research with artists and designers.
The Immersion Lab
at ArtCenter College of Design is a shared space that gives students and faculty greater access to various XR technologies (AR, VR, and MR), methodologies, mentors, community, and tools. As an interdisciplinary resource, we use exploratory prototyping and experiential learning to quickly familiarize students with the medium and start to explore with its creative potential. The lab hosts various undergraduate and graduate courses. This fall term the lab is hosting four studios as well as it's first sponsored studio with Google Daydream. The lab has 8 stations with VR ready PCs, 8 HTC Vive playspaces, a Motion Capture space with 2 mobile mocap suits, as well as an array of additional equipment from the Oculus Rift to the Hololens.
https://immersionlabartcenter.org/
Excerpt of final exhibition and live stream


Machined Influencers
Graphic and Interaction Design Studio
Faculty: Jenny Rodenhouse & Carolina Trigo
Unity Exhibition Designer, Live Interaction Play, Live Stream Host: Jenny Rodenhouse
Virtual avatars, designed based on social media analytics, are now hired as models, singers, brand designers, and overall ambassadors to an emerging genre known as interactive "Synthetic Media". Pop stars and their music can now be algorithmically manufactured in entirety from an executive's office. In the course we will critically examine the historical and future role of these new culture influencers, both real and imagined, from popstars, to youtube stars, to Washington DC. Using machine learning as a design medium, we will explore the future of graphic and interaction design, through sovereign avatars, generative representations, AI behaviors, and neural networked systems.
Students will design new machined autonomies to generate online "performances". How can design learn from influencers, as a vehicle to embed and refute ideals, scale a point of view, and foster change? How will these machined influencers change how we see ourselves, our desires, our communities, our borders, our countries, and our world?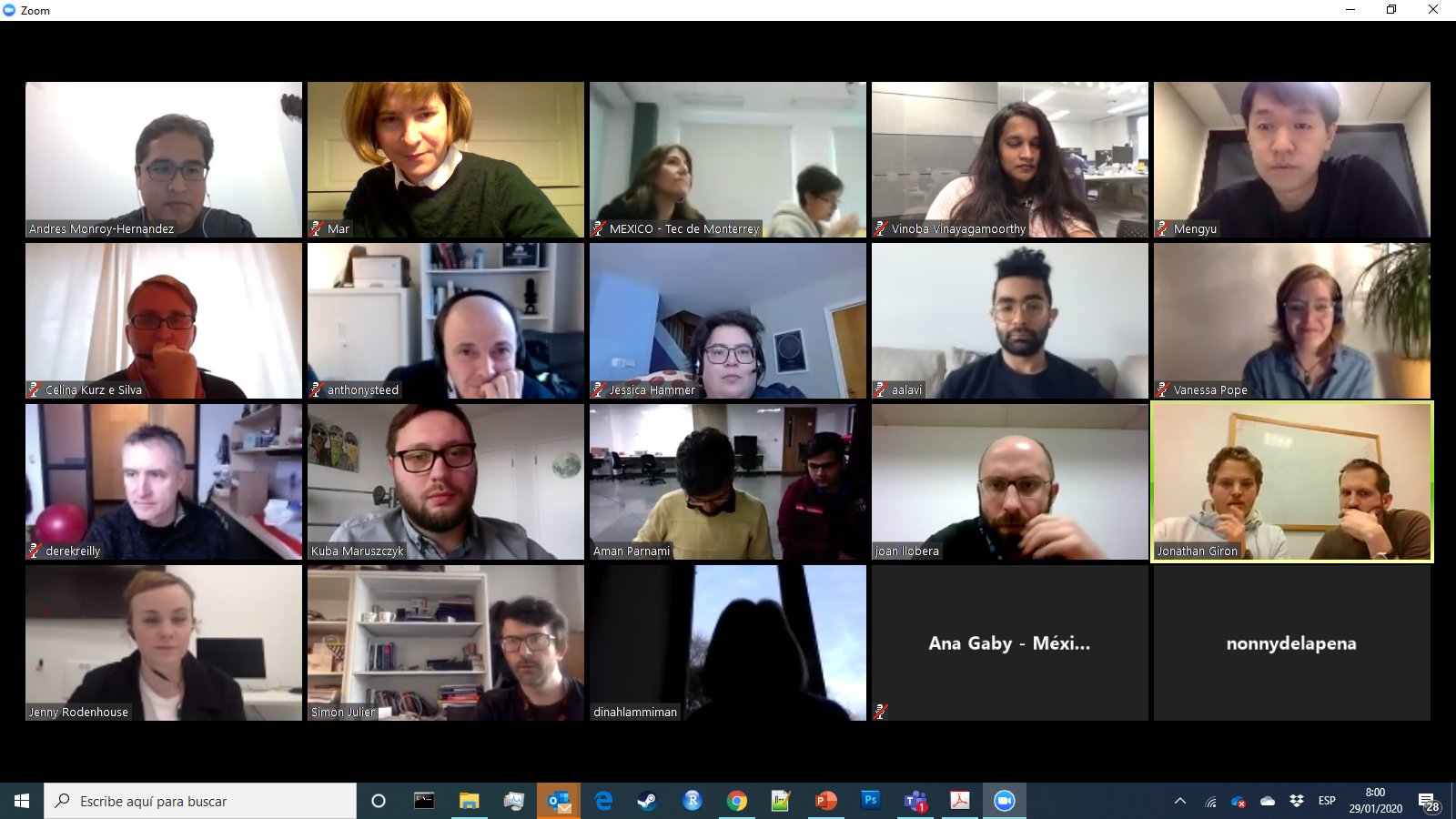 MACHINE ENVISIONED STORIES: SNAP CREATIVE CHALLENGE (2020)

A Transdisciplinary Course
With Snap Inc Research, BBC Research, and Microsoft Research

The stories we consume today are authored by not just humans but algorithmically tuned machines. If a story is a series of events that are suddenly given priority, importance, and structure, who or what decides this? We will explore new ways to identify, author, and share events in collaboration with autonomous machines. We will examine how the camera and machine vision — feature, pattern, object, facial recognition — can co-author, revealing to us new types of events and details that once went unnoticed. How might these new machine envisioned stories change how we understand and relate to one another?


MIXED REALITY FURNITURE: MAKE ROOM FOR THE INTERFACE (2019)

A Graduate Media Design Practices Course
Lead Faculty, Co-Taught with Benjamin Borden


Our increasingly immersive interfaces -- cellphones, VR, and AR technologies -- are redecorating our physical spaces, from how they function to how we live within them. Challenging the concept of 'home', [(1:) the place where one lives without interruption; (2:) an interaction design term for 'a place to return to'], we've developed new interior ideals, based on external digital features, notification routines, and on-screen sceneries.

Rooted in the practice of decoration, designers are experts in attracting and moving the eye. In this studio we will fully embrace this historic design practice, imagining new interface lifestyles, where we, our things, and our spaces resides in multiple places at once [Part of the furniture: [1] a person or thing that has been somewhere so long as to seem a permanent, unquestioned feature]. We will explore new interior/exterior decor, mixed reality functionality, and avant-garde aesthetics. Rather than falling into the stereotypical narrative of 'screen time is bad', we will explore new ways of calling for attention, versus asking for no attention, and exploring periphery structures. Exhibition Catalog
BRB (2018)

2018 / symposium; curation
In collaboration with Ben Hooker
Wind Tunnel Gallery, ArtCenter College of Design, Pasadena CA / November 5, 4-7pm
A
live-stream symposium
of #streaminglifestyles #interfaceaesthetics #virtualurbanism #esportsbodies—nov 5, 4–7pm—wind tunnel graduate center for critical practice gallery—950 s raymond ave, pasadena, ca 91105—SPEAKERS—MATT ADAMS graphic designer and creator of ar computer fashion—JESS FRUCHT associate creative lead at riot games—NATHAN HERTZ director, performer, creator of streaming persona "man of mode"—RACHEL KINNARD costume designer for "the call of warr", a live and interactive experience from wham city, streaming on adult swim—SAM ROLFES multi-format-mixed-media visual artist, unconventional graphic designer, experimental electronic musician, mocap performer—ORGANIZERS—BEN HOOKER & JENNY RODENHOUSE faculty at art center college of design—WOBBLY REALITIES a working group at
mediadesignpractices.net
Live Stream Channel:
twitch.tv/mediadesignpractices