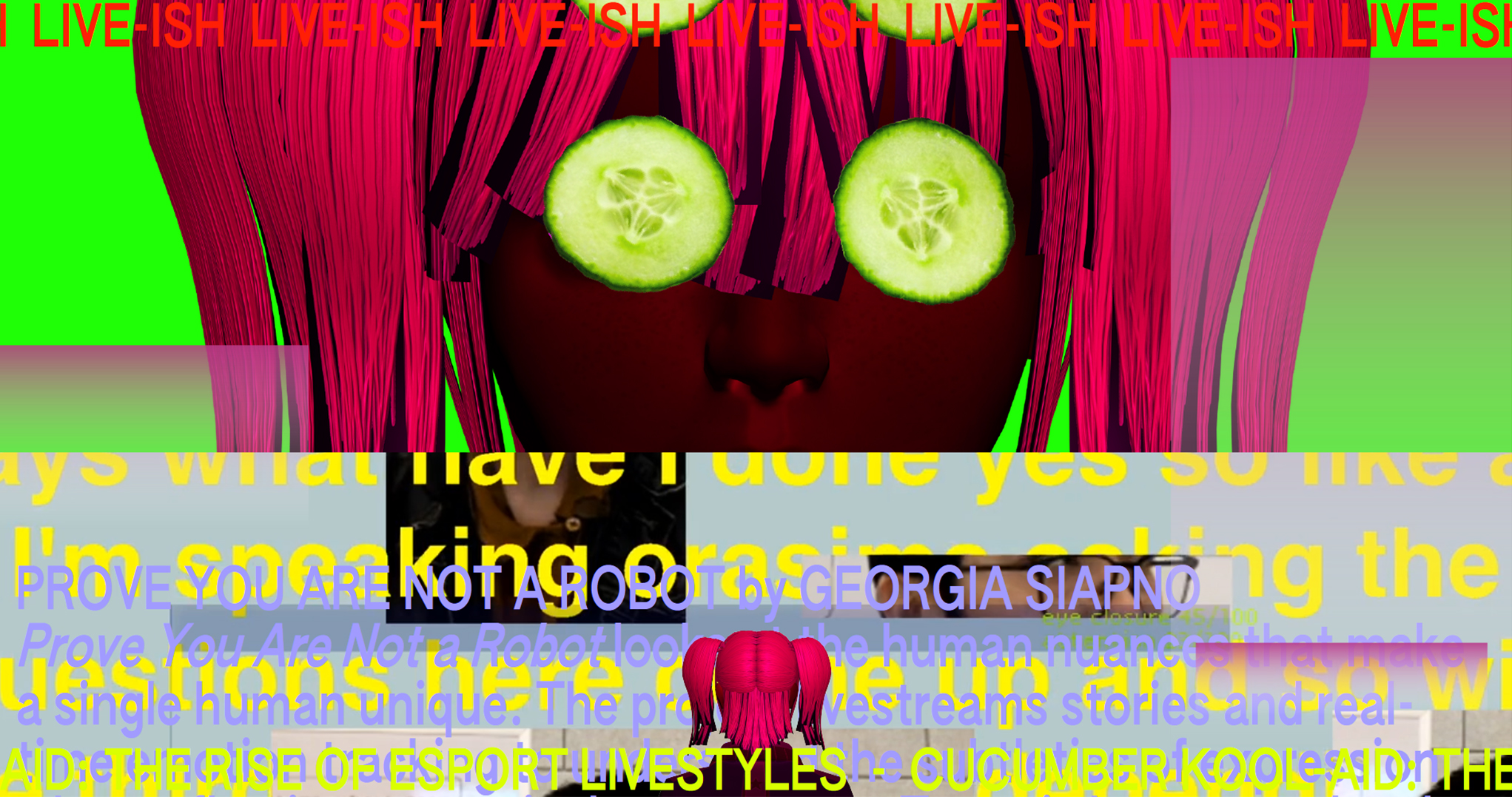 LIVE-ISH



Digital Publication and Research


Part lifestyle catalog and part design research, LIVE-ISH is a digital publication that explores how livestreaming media has crafted an emergent "livestyle;" a way of living within the world that has become increasingly influenced by our 24/7 screen-based interfaces.

Developed as a media category in the 1990s, the term "lifestyle" was popularized by Martha Stewart books, magazines, tv shows, recipes, home decor, fashion, advice… Today we purchase "experiences": all-encompassing 24/7 events (and everything within it) that are initiated by the screen. Experiences that are found, activated, watched, played, shared, tracked, favorited, followed, friended, and designed by "user experience" (UX) designers.

Created in Media Design Practices at ArtCenter College of Design, the digital publication documents one year of design investigations into our never-ending, on camera, unedited, always-entertaining, experience-obsessed "livestyles." The work includes a selection of livestreaming projects that purposely defy traditional categorization and utilize the all-encompassing freedom that 'experience' design brings with it: games-shows-exhibitions-bodies-events.


https://wobblyrealities.com/


MEDIA DESIGN PRACTICES ArtCenter College of Design FACULTY RESEARCHERS Ben Hooker and Jenny Rodenhouse GUEST ARTISTS, DESIGNERS, DIRECTORS Matt Adams, Jess Frucht, Cyrus Ghahremani, Rachel Kinnard, Sam Rolfes DESIGN RESEARCHERS Amor Bizarro, David J. Chan, Maxwell Chen, Adit Dhanushkodi, Keisuke Kuniyoshi, Miranda Jin, Jarret Lin, Nidhi Singh, Tongxin Sun WITH DESIGNERS Harsh Agarwal, Constantin Chopin, Pallavi Gautam, Karina J. Hernández, Lizzie Klein, Georgia Siapno, Evan Stalker WEBSITE DESIGNERS Ben Hooker, Jenny Rodenhouse, Georgia Siapno, Leo Yang CUCUMBER KOOL-AID ESSAY Jenny Rodenhouse EDITOR Katy Portier‍‍



TERRESTRIAL TALES: 100+ TAKES ON EARTH (2019)
A multi-channel video installation and exhibition for Marc Angélil, Department of Architecture, ETH Zurich

Exhibited: ETH Zurich, Main Hall


The 19 multi-channel videos utilize the research archive of 100 + globes, developed by Marc Angélil and Carey Siress with Marcin Ganczarski, Tobias Klauser, Ciro Miquel, Ellen Reinhard, David Roth, Julian Schubert, Elena Schutz, Leonard Streich.

Taking viewers through the history of the earth's representation, the 19 synced videos are constructed in 3 sections: default earth spins, 19 earth variants, and screen-based earth surfaces. The videos uses assemblages of historical and contemporary video, images, and audio, from Bruno Latour's performance lecture to Miley Cyus's Wrecking Ball.


Photos by Ciro Miguel
Simulation of exhibition (excerpt)

Event Organizer and Graphic Designer
LIVE STREAM (2018)

Furniture and simulation
Materials: webcam, curved gaming screen, gaming PC, mineral oil, pond pump, water simulation by R.A.M - River Auto Material, photogrammetry scan of Sturtevant Falls, waterfall spillway, rocks, acrylic computer case, monitor mount, containers. 6ft x 4ft x 3ft
In Collaboration: Benjamin Borden
Thank you: Ben Hooker and Filip Kostic
Featured: Curate LA
Exhibited at: Roger's Office, Crtl+Z, December 1st- January 1st, Group Show / Sp[a]ce Gallery, Spatial Reality: Artists Explore the Future of XR, October 12-28th, Group Show
Live streaming interfaces, streaming web cams, photogrammetry scans of wild streams, domesticated stream decor, stream computer simulations, computer cooling streams.
Opulent augmented, virtual, and live streaming interfaces have redecorated our interior spaces.
Live Stream
explores how these immersive scenes and digital infrastructures can embed themselves within domestic fixtures and forms. The fountain plays only when the physical fountain is running, keeping itself in an endless streaming loop.



Video documentation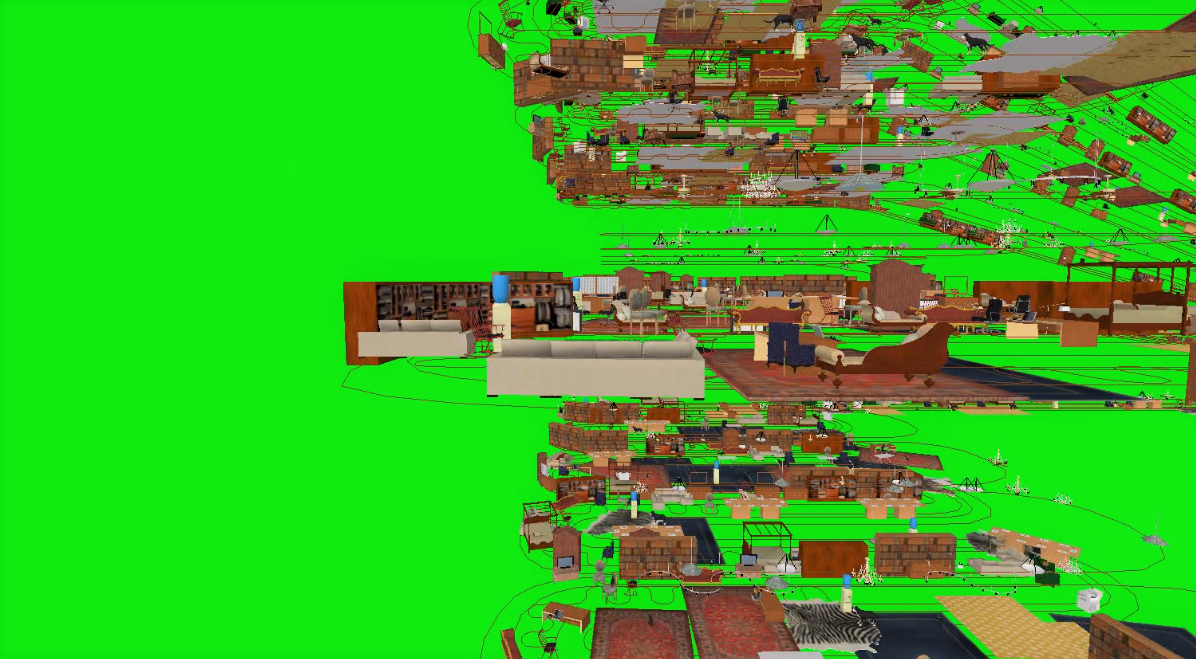 THE LOGISTICAL BAROQUE (2019, 2016)

Simulation
In collaboration Ben Hooker, with Tim Durfee
Exhibited:
Performative Computation at Navel Gallery, 2019 / Bi-City Biennale of Urbanism & Architecture, 2016
"My house, my rules, my pleasure" — said Donatella Versace, or an algorithm.
Automated fulfillment centers, monthly furniture subscription services, short-term apartment stays, and personalized fast fashion,
The Logistical Baroque
is a video that examines the opulence of algorithmic consumerism and delivery urbanism. Anything can be shipped and everything arrives on time.
Created with Simio, a professional logistic simulation software that is used to plan large scale manufacturing, transportation, and supply chain systems,
The Logistical Baroque
exposes current realities and simulates alternative optimization scenarios.
Collapsing backstage assembly with front of stage arrangements, the video imagines a city that is continuously constructed and deconstructed. Offering discovery remixes and auto suggested interiors, rooms are instantly organized upon arrival, combining conveyor belt runways and popular decorating layouts. Reflecting the speed at which our globalized tastes change, we follow digital seasons and switch preferences within seconds. On display, logistical urbanism becomes algorithmically crafted efficiency entertainment. Misalignment inevitable, leading to new room typologies.

Final video