AR-TV (AAARRHG!-TV)



Live stream publication
Lead Researcher & Designer


AR-TV is episode 2 of LIVE-ISH, a streaming publication of design research that explores how the stories we consume today are authored by not just humans but algorithmically tuned cameras.

As a part of SNAP INC Research's 2020 CREATIVE CHALLENGE, in collaboration with BBC Research and MICROSOFT Research, ARTCENTER'S Immersion Lab examined the future of storytelling with augmented reality through the lens of the camera, computer vision, and machine learning. AR-TV proposes ways to identify, author, and share new stories in collaboration with autonomous machines. If a story is a series of events that are suddenly given priority, importance, and structure, who or what decides this? How can computer vision reveal events and details that once went unnoticed? How can machine vision and learning models detect features, infer patterns, and predict scenes, now be co-authors? How might these new machine envisioned stories change how we understand and relate to one another?

ARTCENTER COLLEGE OF DESIGN Transdisciplinary Studio HOST DEPARTMENT Interaction Design FACULTY AND DESIGN RESEARCHER Jenny Rodenhouse THESIS RESEARCHER Miranda Jin ARTIST & DESIGNERS Davis Brown, Dillon Chi, Brandon Comer, Wenyu Du, Qihang Fan, Anna Kang, Casey Knapp, John Ma, Susie Moon, Jeanne Park, Ian Sterling, Nicole Wang TEACHING ASSISTANT Leo Yang PUBLICATION DESIGN Jenny Rodenhouse
CIRCADIAN RHYTHMZ: TWITCH WHILE YOU TWITCH (2020)



Video Game
Duration: Until you fall asleep
Videography: Lizzie Klein
Model: @deathbysanrio


A 'sleep twitch' (also known as a hypnagogic jerk) is a strong, involuntary contraction a body feels as it falls asleep. It is the sensation of jumping and falling while remaining still. In multiple realities, it is the result of our body remaining in one while succumbing to another.

The pressures of 24/7 entertainment are exhibited within an emergent subgenre of live streaming: the video gamer who falls asleep in front of their camera (as seen on Twitch). While their body exists in one time zone, their channel exists across all. Earning thousands of dollars and viewers from broadcasting their sleep, their body becomes an interactive landscape for their audience, turning sleep into a form of crisis survival, a status symbol, and luxury item.

Circadian Rhythmz: Twitch while you twitch is a video game that viewers can play in order to fall asleep, exploring new screen-based sleep patterns and gamified landscapes. Moving across the streamer's curated sleep scene, players endlessly jump their character named Hypnagogic Jerk, from obstacle to obstacle battling their drooping eyelids. The game's lighting slowly dims over time, getting darker and darker, it increases in difficulty. Circadian Rhythmz ends when the player falls asleep, achieving what they so desire.

Download to play (pc + mac)






LIP SERVICE (upcoming)



Video Interview
Duration: 7:30
Interview: Crazy Minnow Studio



We have produced interfaces that can mimic us in great detail. More coming soon.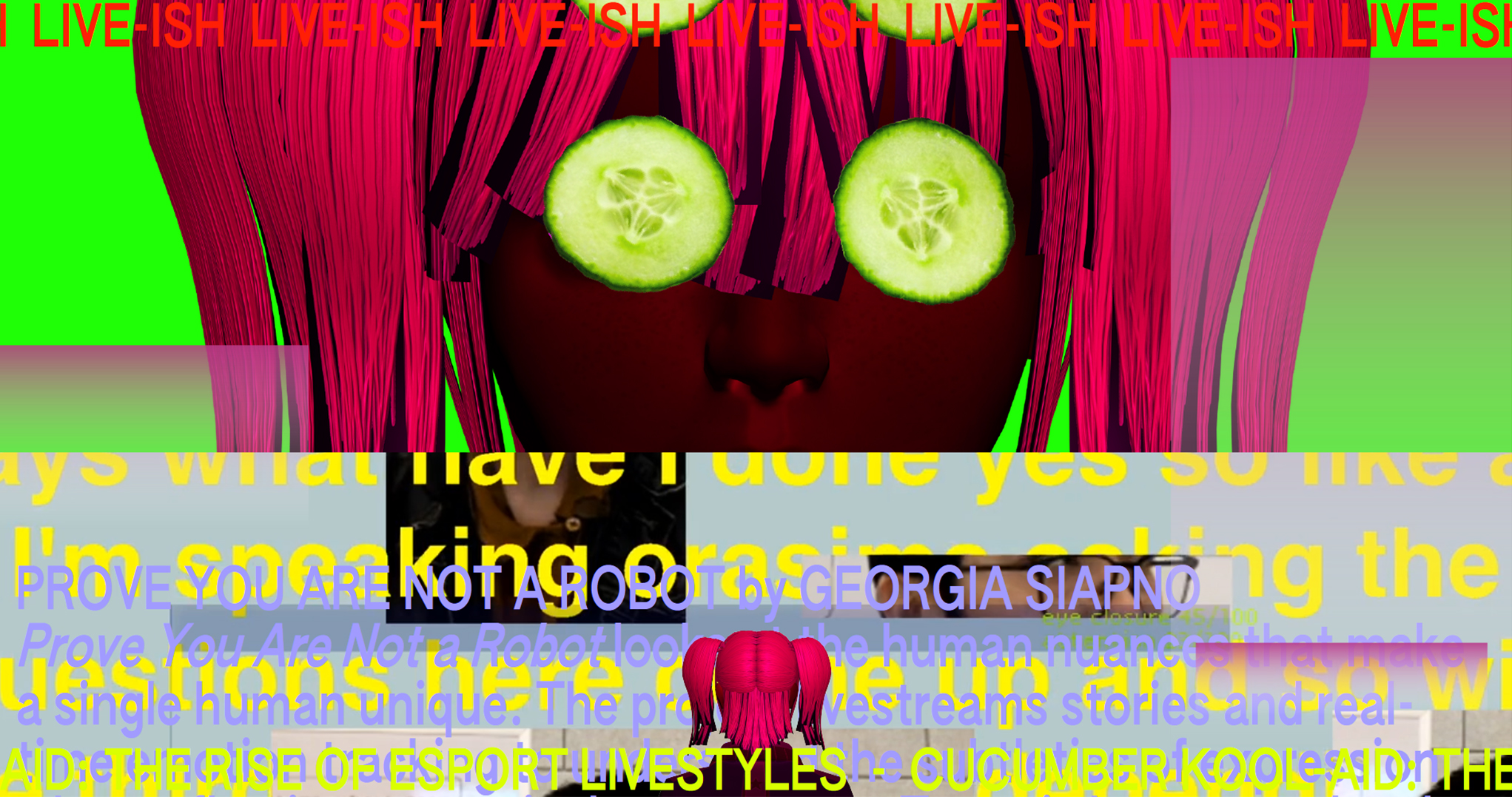 LIVE-ISH (2019)



Digital Publication and Research


Part lifestyle catalog and part design research, LIVE-ISH is a digital publication that explores how livestreaming media has crafted an emergent "livestyle;" a way of living within the world that has become increasingly influenced by our 24/7 screen-based interfaces.

Developed as a media category in the 1990s, the term "lifestyle" was popularized by Martha Stewart books, magazines, tv shows, recipes, home decor, fashion, advice… Today we purchase "experiences": all-encompassing 24/7 events (and everything within it) that are initiated by the screen. Experiences that are found, activated, watched, played, shared, tracked, favorited, followed, friended, and designed by "user experience" (UX) designers.

Created in Media Design Practices at ArtCenter College of Design, the digital publication documents one year of design investigations into our never-ending, on camera, unedited, always-entertaining, experience-obsessed "livestyles." The work includes a selection of livestreaming projects that purposely defy traditional categorization and utilize the all-encompassing freedom that 'experience' design brings with it: games-shows-exhibitions-bodies-events.


https://wobblyrealities.com/


MEDIA DESIGN PRACTICES ArtCenter College of Design FACULTY RESEARCHERS Ben Hooker and Jenny Rodenhouse GUEST ARTISTS, DESIGNERS, DIRECTORS Matt Adams, Jess Frucht, Cyrus Ghahremani, Rachel Kinnard, Sam Rolfes DESIGN RESEARCHERS Amor Bizarro, David J. Chan, Maxwell Chen, Adit Dhanushkodi, Keisuke Kuniyoshi, Miranda Jin, Jarret Lin, Nidhi Singh, Tongxin Sun WITH DESIGNERS Harsh Agarwal, Constantin Chopin, Pallavi Gautam, Karina J. Hernández, Lizzie Klein, Georgia Siapno, Evan Stalker WEBSITE DESIGNERS Ben Hooker, Jenny Rodenhouse, Georgia Siapno, Leo Yang CUCUMBER KOOL-AID ESSAY Jenny Rodenhouse EDITOR Katy Portier‍‍



TERRESTRIAL TALES: 100+ TAKES ON EARTH (2019)
A multi-channel video installation and exhibition for Marc Angélil, Department of Architecture, ETH Zurich

Exhibited: ETH Zurich, Main Hall


The 19 multi-channel videos utilize the research archive of 100 + globes, developed by Marc Angélil and Carey Siress with Marcin Ganczarski, Tobias Klauser, Ciro Miquel, Ellen Reinhard, David Roth, Julian Schubert, Elena Schutz, Leonard Streich.

Taking viewers through the history of the earth's representation, the 19 synced videos are constructed in 3 sections: default earth spins, 19 earth variants, and screen-based earth surfaces. The videos uses assemblages of historical and contemporary video, images, and audio, from Bruno Latour's performance lecture to Miley Cyus's Wrecking Ball.


Photos by Ciro Miguel
Simulation of exhibition (excerpt)