TERRESTRIAL TALES: 100+ TAKES ON EARTH (2019)
A multi-channel video installation and exhibition


Exhibited: ETH Zurich, Main Hall






Simulation of exhibition (excerpt)
LIVE STREAM (2018)
Furniture and simulation
Materials: webcam, curved gaming screen, gaming PC, mineral oil, pond pump, water simulation by R.A.M - River Auto Material, photogrammetry scan of Sturtevant Falls, waterfall spillway, rocks, acrylic computer case, monitor mount, containers. 6ft x 4ft x 3ft
In Collaboration: Benjamin Borden
Thank you: Ben Hooker and Filip Kostic
Featured: Curate LA
Exhibited at: Roger's Office, Crtl+Z, December 1st- January 1st, Group Show / Sp[a]ce Gallery, Spatial Reality: Artists Explore the Future of XR, October 12-28th, Group Show
Live streaming interfaces, streaming web cams, photogrammetry scans of wild streams, domesticated stream decor, stream computer simulations, computer cooling streams.
Opulent augmented, virtual, and live streaming interfaces have redecorated our interior spaces.
Live Stream
explores how these immersive scenes and digital infrastructures can embed themselves within everyday domestic fixtures and in-home aesthetics. The fountain plays only when the physical fountain is running, keeping itself in an endless streaming loop.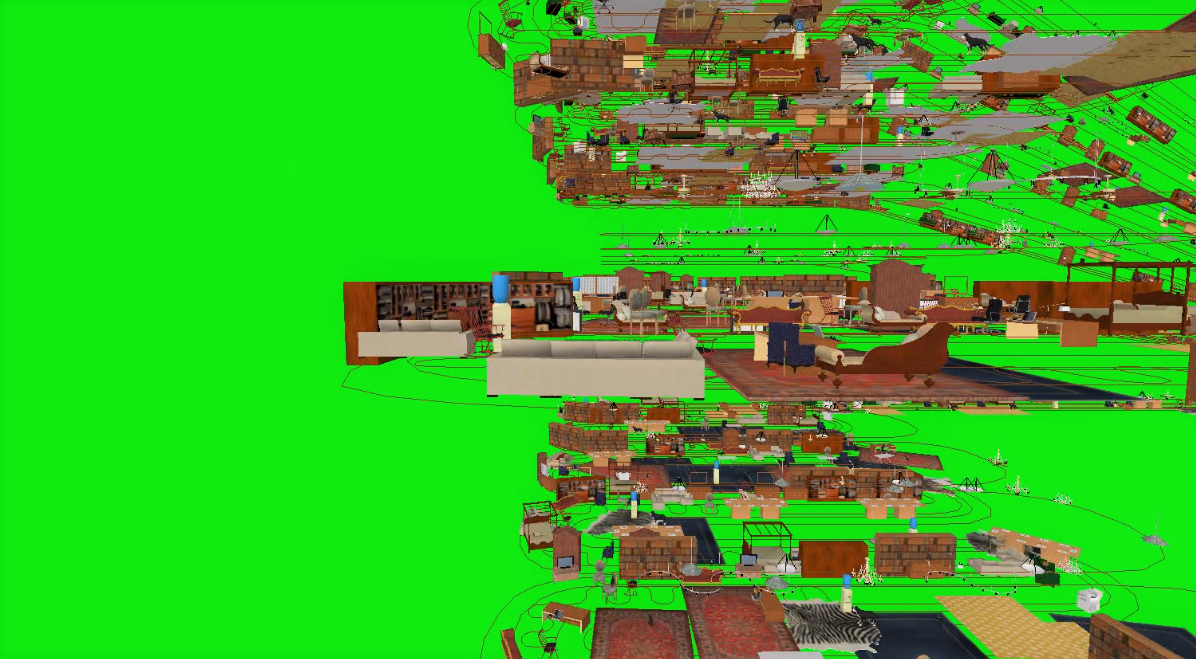 THE LOGISTICAL BAROQUE (2019, 2016)

Simulation
In collaboration Ben Hooker, with Tim Durfee
Exhibited:
Performative Computation at Navel Gallery, 2019 / Bi-City Biennale of Urbanism & Architecture, 2016
"My house, my rules, my pleasure" — said Donatella Versace, or an algorithm.
Automated fulfillment centers, monthly furniture subscription services, short-term apartment stays, and personalized fast fashion,
The Logistical Baroque
is a video that examines the opulence of algorithmic consumerism and delivery urbanism. Anything can be shipped and everything arrives on time.
Created with Simio, a professional logistic simulation software that is used to plan large scale manufacturing, transportation, and supply chain systems,
The Logistical Baroque
exposes current realities and simulates alternative optimization scenarios.
Collapsing backstage assembly with front of stage arrangements, the video imagines a city that is continuously constructed and deconstructed. Offering discovery remixes and auto suggested interiors, rooms are instantly organized upon arrival, combining conveyor belt runways and popular decorating layouts. Reflecting the speed at which our globalized tastes change, we follow digital seasons and switch preferences within seconds. On display, logistical urbanism becomes algorithmically crafted efficiency entertainment. Misalignment inevitable, leading to new room typologies.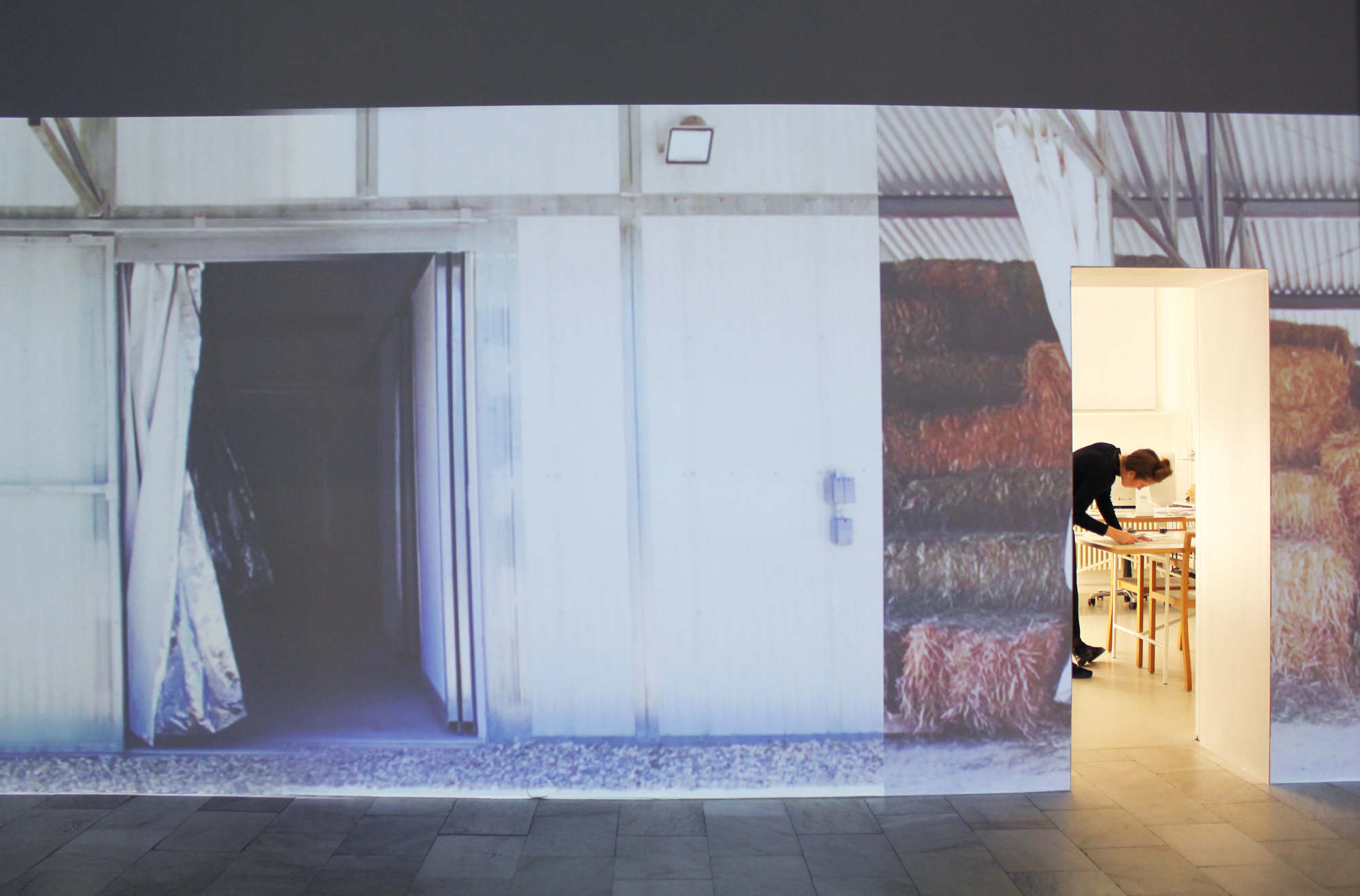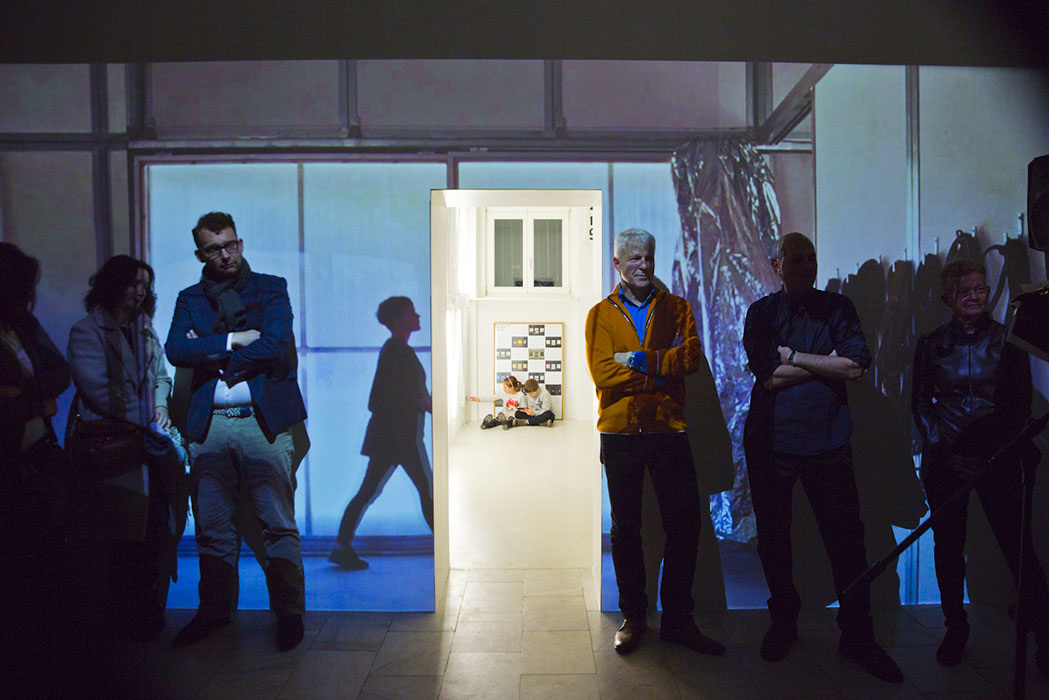 99¢ SPACE TO FIT (2017)


A multi-channel video installation and exhibition

In collaboration with agps architecture

Exhibited: Tabula Non Rasa, Basque Country Architecture Institut 2019 / Transform, Switzerland Architecture Museum 2018 / Architektur Galerie Berlin, 2017

Gallery talk: November 23, 2017, In conversation with Andreas Ruby, Sarah Graham, Marc Angélil, Manuel Scholl, Jenny Rodenhouse, Karin Sander and Arno Brandlhuber


Over half of the world's videos are consumed on smartphones, 70x144 mm frames. 99¢ Space To Fit is a video that documents the 99¢ Space by Sarah Graham and Marc Angélil of agps architecture, using an out-of-pocket smartphone to explore 99¢ digital materiality.

The 99¢ Space project is a conceptual probe into making an inexpensive space. Through the obfuscation of the internet, overstock sales, and global manufacturing, we really don't know the true cost of anything anymore. Investigating how little one can pay for a livable space in a warm climate, agps transformed a prefabricated barn in rural California into a live/work unit with minimum means and local sourcing.

To capture the project's premise, the video 99¢ Space To Fit used a smartphone, its cheap display, accessible camera, and standard field of view, fitting 99¢ Space within these bounds. Performing for the camera, the space was disassembled, scaled, and sectioned by the digital frame. The structure was then stitched back together from multiple points of view and time. Using an everyday medium that resulted in 99¢ colors, pixels, and seams, the video breaks from seductive resolutions and technology class systems to capture 99¢ Space within its everyday, investigative context.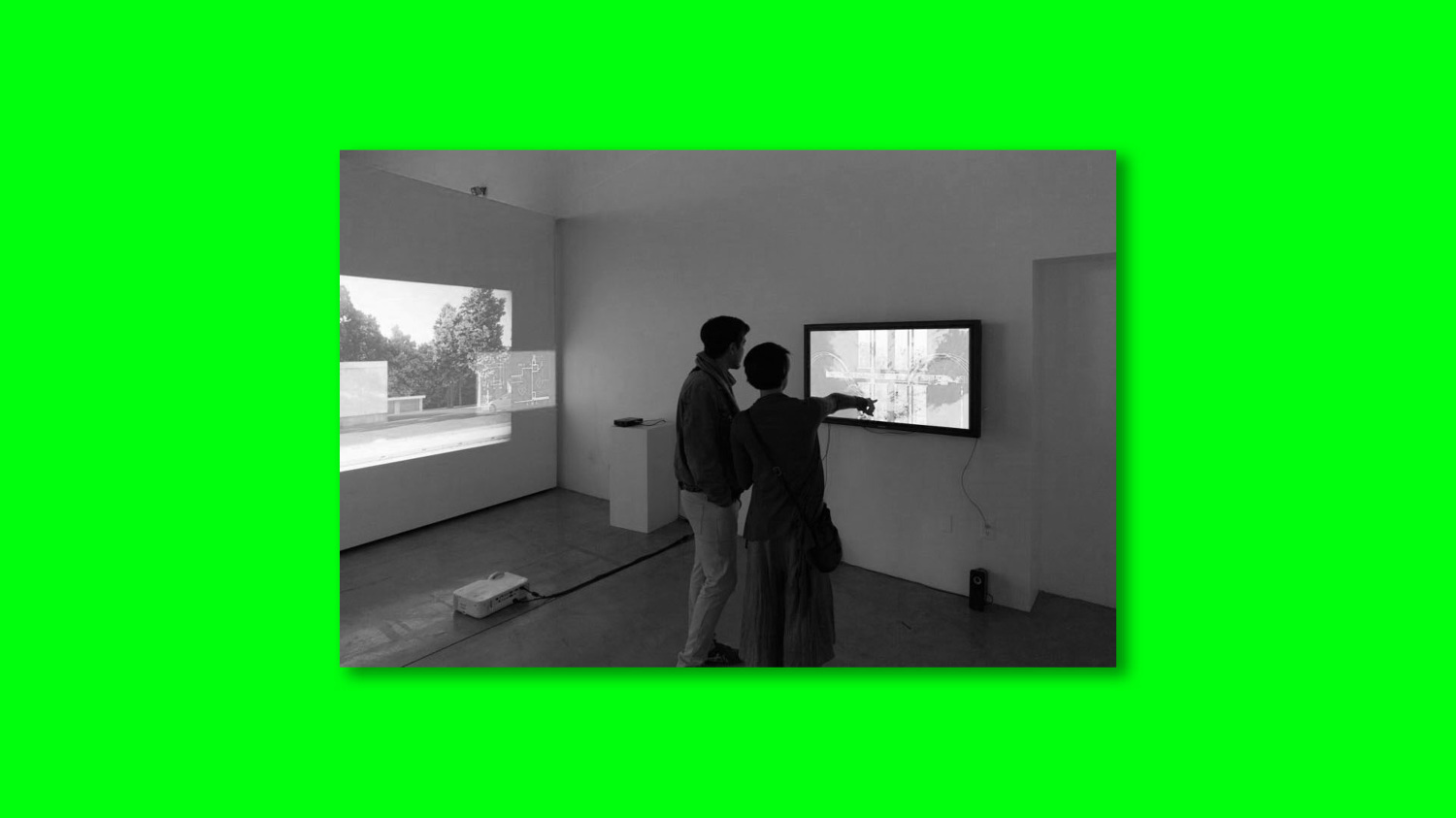 THE ENCHANTED FOREST:
SATELLITE CANOPIES & DIGITAL UNDERSTORIES (2017)
Video; research; simulation; VR video
Created at: the Nature, Art, and Habitat Residency in Sottochiesa, Italy
Exhibited: FEMMEBIT, Los Angeles CA, 2019 The Night Gallery, Chicago IL, 2018
"The International Space Station ✞ will be visible from Sottochiesa, Italy for 4 min. Max Height: 70 degrees, Appears: NW, Disappears: SE." [Received Tuesday 11:57am, Wednesday 10:57am, Thursday 9:57am, Thursday 11:57am, Friday 10:57am…] -- Text Message from SpotTheStation
From satellite ✞ sensors to virtual reality content, forests are being scanned, replicated, and rendered to resolve our current climate reality and to escape into a entirely different one. Evolving into a complex system of entangled networked devices, media, and data, forests now extend well beyond their physical, natural, and conceptual bounds—into outer space, into the living room, into the body, into a multi-layered environment that blends the virtual and the real, the artificial and the natural, the local and the global.
The Enchanted Forest: Satellite Canopies and Digital Understories, is a short film that investigates new ecosystems emerging from the alignment of landscapes, aerial observation technologies, and VR culture. Using a forest located in Sottochiesa, Italy, the project experiments with combining documentary research, interviews with Agronomist Patrizio Musitell, satellite ✞ locator applications, popular VR forest environments, and speculative simulations—to generate a place that is sited within multiple representations, geographies, and realities.
The film constructs a hyper-linked ecosystem that appears and disappears with the passing of the International Space Station ✞, our new artificial satellite moon. Within each 4-minute scanning season, VR visitors appear, drawn into the fleeting landscape.
The project imagines how our landscapes, seasons, and internal bodily rhythms might be transformed by emerging technological forces, representative of our growing faith ✞ in the multi-layered realm we inhabit—the planetary interface. Through this research, The Enchanted Forest proposes the creation of new hybrid ecologies of interaction and practice in the post-digital, Anthropocene era.
Chi di voi si ricorda la storia della Divina Commedia di Dante? ... Ti ricordi come si inizia?"

"Who among you remembers the story of the Divine Comedy by Dante Alighieri? … Do you remember how it starts? - Agronomist, Patrizio Musitell